On 1st December 2021, the GASVESSEL consortium had its VIII General Assembly meeting to celebrates its progress. Due to the still rising cases of coronavirus in Europe, all partners met once again in a virtual environment.
GASVESSEL crossing the finish line
Today, GASVESSEL project enters in its 55 month of researching and developing an innovative solution for more efficient and cheaper gas transport system. Due to the health pandemic, the project work plan was extended to February 2022.
During the online gathering, all partners  presented their latest results and and important work that has been carried out. Additionally, the members of the consortium discussed their achieved milestones and deliverables per work packages.
Moreover, the discussion continued with the preparation and planning of the next actions towards the final stage of the project. The partners talked about the organization of a final exploitation workshop to engage with relevant industrial stakeholders and policy makers and announcing the final technical results. Another point on the consortium agenda was the development of the business plan for the GASVSSEL novel solutions.
The meeting ended with a detailed follow-up on the management and financial aspects of the project.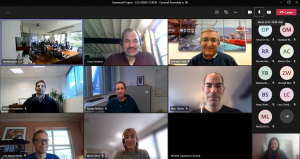 Newsletter
If you want to be updated about the novel GASVESEL technology for , subscribe for the project newsletter.